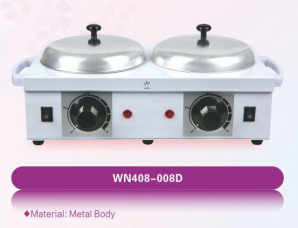 Product Description
Name:2 IN 1 Metal Body Wax Heater
Model:WN408-008D
Volume:2x500cc
Feature
1. Function of the EAVE:Prevent the melting wax from dripping into the crack of control knob to avoid the machine doesn't work caused by wax coagulation
2. Thermostatically controlled
3. Temperature adjustable
4. Heating ring,steady quality and long life
5. Electronic temperature control is more accurate
6. Material:Metal body
Contact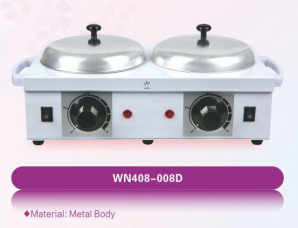 | | |
| --- | --- |
| Power | 100W |
| Capacity | 2x500cc |
| Gift box size | 40x21.5x16.5cm |
| Carton size | 66.5x42x35cm |
| Pcs/Ctn | 6 |
Dtriection For Use:
1. Remove the lid from the WAX HEATER.
2. Adjust the wax-can holder on the wax-can for easy handling.
3. Connect the power, turn on the switch and the indicator light is "on". Then turn the temperature control knob and set the dial on "HI" until the wax achieves a liquid consistency. This process lasts approximately 25 minutes. For faster heating place the lid on the warmer.
4. Once liquid, place the dial in middle place. The temperature will remain constant throughout the day. It is important to test the temperature of the wax by placing a small quantity on the inside of wrist, adjusting the dial accordingly.
5. When the wax is finished, lift out the can. Using the wax-can holder while the warmer is still warm.
6. Turn the warmer off every evening by full turning the dial counter while the warmer is still warm.
7. To clean the warmer, use wax clean with the machine off and while the warmer is still slightly warm.
8. For a new usage, repeat steps 1 to 7.